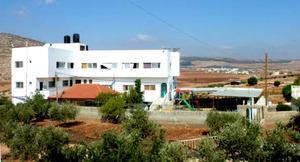 Dear Friend,
Ten years ago, Rebuilding Alliance promised not only to help Palestinian families build, but to keep those homes, schools, playgrounds, and clinics standing.
And thanks to you, we have.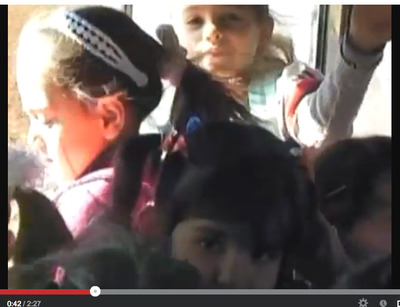 160 children attend the Kindergarten
you built.
• As a result, 20 embassies, U.N. Agencies, and NGOs invested in Al Aqaba Village.•
Thanks to your donations
, the Ibn Rush'd Library hired a full-time Librarian.
• 5 visiting teachers stayed in the guesthouse you built, with the 6th teacher coming soon!  Please enjoy this video short created by our 2nd visiting teacher, Morgan Bach, on the schoolbus minivan.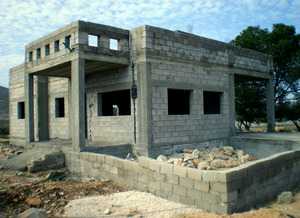 Electricity was just installed in our
Rebuilding to Remain
homes — doors and windows next!
In April, when Al Aqaba Village became the 1st Palestinian town to issue building permits in Area C, thanks to you, Rebuilding Alliance provided the 1st revolving mortgage loans in Area C.
In recognition of this and so much more, on December 17th, Al Aqaba Mayor Haj Sami Sadeq was awarded Best Head of Village Council by PA Minister of Local Governments Dr. Kalid Qawasmi.
But it isn't easy.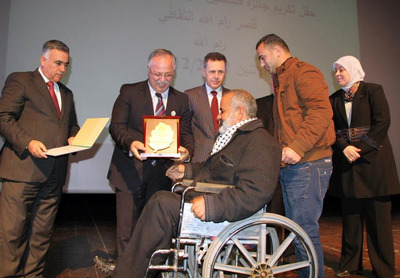 Because you called congress,
Israeli soldiers left after one night of live-fire training in Al Aqaba village.
With your help backing lawyers at JLAC, the Jaber Family's home is standing and animals are safe in their barns.
But it isn't enough.  According to BIMKOM, over 12,500 demolition orders have been issued in Area C, and our partners at UNOCHA are seeing a sharp rise in demolitions and forced evictions to make way for illegal settlements.  UNOCHA's Displacement Working Group writes today about the imminent risk of forced eviction facing a Palestinian family, the Shamasneh family in Sheik Jerrar East Jerusalem.  Amos Gvirtz wrote in his series, Don't Say You Didn't Know #342, that on Christmas Day, "a Palestinian farmer in the town El Khader (near Bethlehem) discovered that some 200 of his olive trees had been cut down presumably by settlers from Neve Daniel.  It is not the first time."
With your encouragement, we formed a technology team to bring Ushahidi Crowdsource Mapping tools forward.   Lea Park's Palestine Crisis Map won "Ushahidi Deployment of the Week" in November, and we launched the Stay Human Conference Calls to Congress series to bring Palestinian and Israeli Peacemakers to you — and to your congressional staffers. Teacher/blogger Morgan Bach and I went on the road in December to see if sister groups would join us to invite their members and congressional staffers to calls with leaders of the projects in their care — and everybody said yes.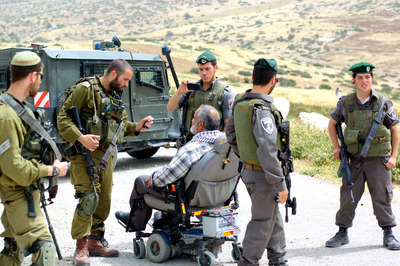 What we learned, matters.  Every Congressman, every Senator, states on their website that they will intervene on a constituent's behalf with any federal agency when an urgent matter needs attention.  So staffers for even the most conservative congressman will privately call the State Department when you ask for their urgent assistance to save a home, a school, or an olive grove.  Your call makes them call the State Department and the Israeli Embassy.  And their calls work.
So often in these past ten years, I've left my small paycheck un-cashed to pay operating costs, working day and night, and wondering how to meet payroll for my part-time staff.   I keep going because I love this work — but with my recent diagnosis of zero sta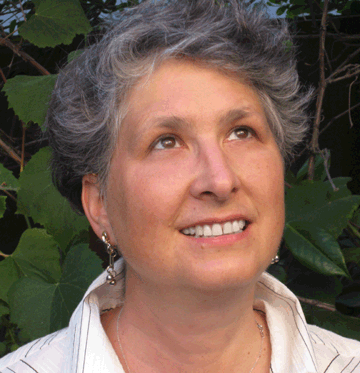 ge breast cancer, I've been looking long and hard at sustainability for health's sake. Thankfully the operation is over and I should be fine.
But I can't do this alone.
I want Rebuilding Alliance to provide you with the backbone support — congressional district by congressional district — that you'll need to keep Palestinian homes, schools, clinics, and barns standing.  I know this matters.  It is one of the most tangible ways to build peace, bring U.S. policy in line with our values, and achieve justice.
To support you, Rebuilding Alliance will need more staff.
So I ask your help.   On December 22nd, my family and I donated my back pay and bridge loans totaling $35,002, back to Rebuilding Alliance. This entirely cleared Rebuilding Alliance's long-term debt.
Please match any part of my donation with a gift of your own. 
Right now we've raised about $7800 towards that $35,002 goal.

Please make it a monthly recurring donation.  It's easy, and it gives me peace of mind in planning.
With sincere thanks for all that you've made possible,
Donna Baranski-Walker
Founder of Rebuilding Alliance
___________________P.S.   
If you live in the SF Bay Area and would like to join Rebuilding Alliance's Board of Directors
, please send me a letter and resume to Contact @ RebuildingAlliance.org.
P.P.S.  If you would like to join an Advisory Board to help with Fair Trade Sales, Mortgage Insurance/Financing, Contact Congress Strategy, or Fundraising (this committee has a lot of fun), please do be in touch.  Lastly, if you would like to hold a Houseparty Fundaiser to invite your friends to join you to taste varieties of Fair Trade Organic Olive Oil, let's set a date!  You can reach me at Contact @ RebuildingAlliance.org, or call next week at 650 325-4663.